Welcome to A Peace of Heaven B and B, home of relaxation and comfort!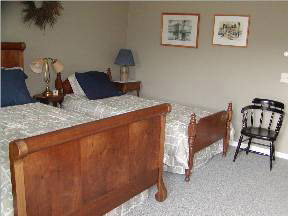 We're located in Errol, NH, 14 miles East of Colebrook on Route 26 in the Great North Wood.
If you're looking to enjoy the beautiful countryside of New Hampshire, look no further than A Peace of Heaven B and B. Every guest that stays with us is treated like family. We pride ourselves on 100% customer satisfaction. A full country breakfast is served each morning. You'll enjoy a wide range of outdoor activities including snowmobiling, ATV riding, and snowshoeing right from your bedroom door, as well as star gazing, nearby fishing and canoeing, and much more. Our relaxing bed & breakfast rooms can accommodate two guests, and our wheelchair-accessible room can accommodate up to three guests.
Prior to opening our affordable bed & breakfast in December of 2004, Charles and Sonja Sheldon owned and ran Rooms With a View in East Colebrook, NH. Now they enjoy their home and business in Millsfield.
In her spare time, Sonja likes to work in her garden and quilt. She is a Grange and Kiwanis member in Colebrook.
Charles is a skier, both cross country and downhill, and likes to snowshoe in the abundant snow that falls here. He is also a Grange member.
They both enjoy the great outdoors and all the wildlife that surrounds their home and bed and breakfast in northern New Hampshire.
Our mission at A Peace of Heaven B and B is to provide guests with comfortable accommodations and an affordable bed & breakfast experience in a relaxing atmosphere. Contact us today for reservations and availability the next time you're in Errol, Millsfield, Coos County, Dixville Notch, or Drummer, NH!